Northern Nevada Central Labor Council Stands with Rail Workers, Calls on Congress to Pass Paid Sick Days
Wendy Colborne
30 Nov, 2022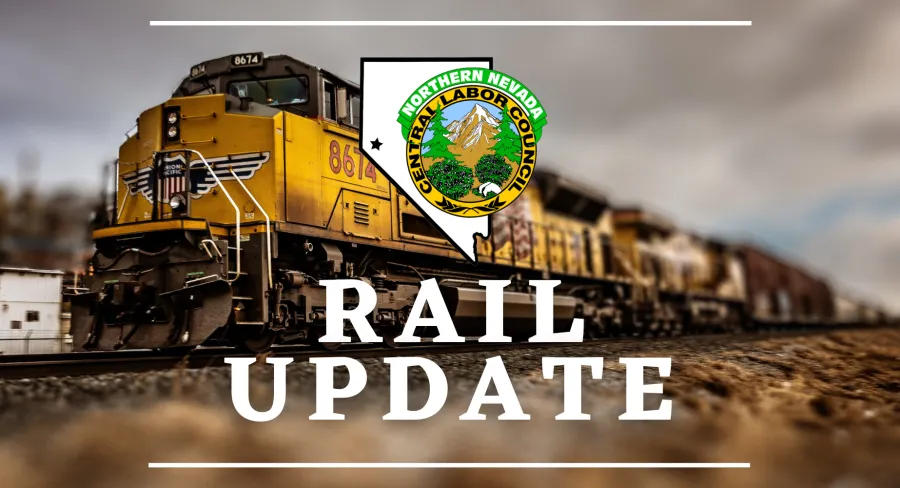 Northern Nevada Central Labor Council Stands with Rail Workers, Calls on Congress to Pass Paid Sick Days
For Immediate Release: November 30, 2022
Contact: info@nnclc.org  / 775-331-5570
 
Reno, NV (November 30, 2022) – This morning, the Northern Nevada Central Labor Council released the following statement in solidarity with our nation's rail workers:
We stand with rail workers here in Nevada and across the country as they fight for dignity and fair treatment on the job. There is no reason that rail carriers should be making billions while rank-and-file workers can't even take time off if they get sick.
This morning, AFL-CIO President Liz Shuler said, "As Congress begins deliberating over imposing a contract on these workers, we urge our elected leaders to keep their actions and thoughts firmly focused on workers and their families. While the tentative agreement unions negotiated this year included many critical gains—significant wage increases, caps on health care premiums and prevention of crew reduction—it also fell short by not including provisions on paid sick leave or fair scheduling. It's now up to Congress to do the right thing by passing paid sick days for rail workers. "
Northern Nevada Central Labor Council President and Nevada State AFL-CIO Transportation Trades Committee Chair Mike Pilcher said, "After what this country has been through with COVID 19, It's remarkable that Railroad conductors, engineers, and workers still have no paid sick leave days. Furthermore, when they do get sick and take a day off without pay, they get a "demerit" and are one step closer to discipline including termination. How in the world will railroad corporations attract and retain the next generation of critical infrastructure workers with such draconian policies? This is another piece of the "self-induced" supply chain crisis puzzle that the Railroad Corporations have inflicted upon our economy. Prioritizing Wall Street profits above your own employees' health is a race to the bottom."
###
The Northern Nevada Central Labor Council is one of nearly 500 state and local labor councils of the AFL-CIO. We're the heart of the labor movement in the Greater Reno-Sparks-Carson-Tahoe region, and across Northern Nevada.
The Northern Nevada Central Labor Council is a democratically elected body dedicated to representing the interests of working people at the state and local level. We mobilize our members and community partners to advocate for social and economic justice and we strive daily to vanquish oppression and make our communities better for all people — regardless of race, color, gender, religion, age, sexual orientation, or ethnic or national origin.