Join labor for the 2023 Dr. Martin Luther King Jr. Caravan
Wendy Colborne
11 Jan, 2023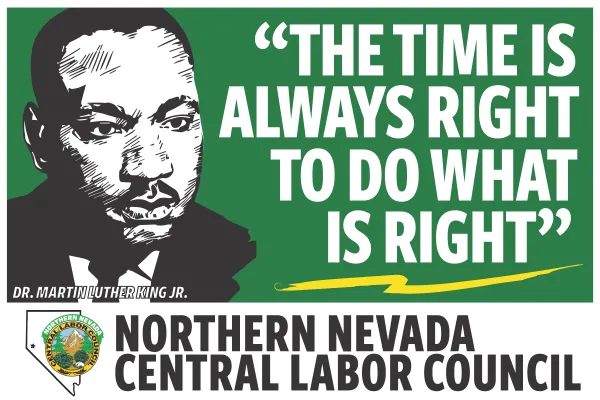 Dear Brothers, Sisters, and Community Members -
The NNCLC is proud to support the Dr. Martin Luther King Jr. Day Caravan on Monday, January 16 at 10:30 AM, hosted by the Reno/Sparks NAACP and Northern Nevada Black Cultural Awareness Society - Nnbcas.
Dr. Martin Luther King Jr. wasn't just a crusader for civil and racial justice. He also understood that the struggle for racial equality and economic justice are closely related. He knew that organized labor and unions are critical to achieving these goals. He provided support and vocal advocacy for the rights of workers. King believed that strong labor unions could play a vital role in reducing poverty and income inequality, which he recognized as significant barriers in the fight for racial justice.
Furthermore, his backing of fair compensation for workers through labor unions was an extension of his belief that everyone should be treated with dignity and respect. He knew that workers' rights were civil rights were human rights - and still are. We cannot attain racial and social justice without continuing his work today.
Join us in celebrating the legacy of Dr. Martin Luther King, Jr. and his message of peace and solidarity. If you would like a rally sign, we will have them available at the event.
WHERE: Caravan begins at Bethel AME Church - Reno/Sparks, 2655 Rock Blvd, Sparks, NV 89431
WHEN: 10:30 AM - 11:30 AM, January 16, 2022
WHY: To celebrate Dr. Martin Luther King Jr.'s legacy and contributions