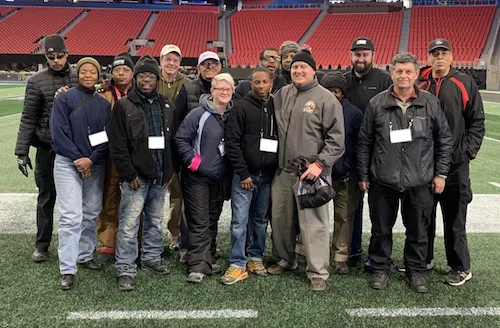 Caption: Members of the Washington, D.C. IBEW Local 1200 preparing to work the CBS Super Bowl Broadcast from Atlanta
In addition to being the most-watched televised event of the year, the Super Bowl represents the hard work of thousands of union members. This includes not only the union members who everyone sees, like the players (NFLPA) and the referees (NFLRA), but also the announcers, musicians, and food, transportation and hotel workers, and many more. We want to recognize the many unions that bring Super Bowl Sunday to millions of people around the world every year.
On the Field of Play
NFL Players Association (NFLPA)

NFL Referees Association (NFLRA)
Announcers, Camera Operators, Technicians, Field Workers and Other Hardworking Folks
SAG-AFTRA broadcast announcers

SAG-AFTRA and American Federation of Musicians (AFM) member Chris Stapleton sang the national anthem

SAG-AFTRA member and SAG Award-winner Troy Kotsur performed the national anthem in American Sign Language

SAG-AFTRA member Babyface performed "America the Beautiful"

SAG-AFTRA National Board member and "Abbott Elementary" star Sheryl Lee Ralph performed "Lift Every Voice and Sing"

National Association of Broadcast Employees and Technicians-CWA (NABET-CWA)

Electrical Workers (IBEW) who were part of the Fox Sports broadcast crew 

Laborers (LIUNA)
Electricity
Stadium Construction
Ironworkers erected the steel at State Farm Stadium in 2006. Members of Ironworkers Local 75 worked primarily on the project with Schuff Steel.

The Painters and Allied Trades (IUPAT) painted the stadium. 

The United Association of Union Plumbers and Pipefitters (UA) completed the plumbing, pipe fitting, sprinkler system and HVAC. 
Apple Music Super Bowl LVII Halftime Show
SAG-AFTRA member Rihanna and others performed

Theatrical Stage Employees (IATSE)

American Federation of Musicians (AFM) 
Official Football
The leather for every single NFL football, including the ones that were used in Sunday's Super Bowl, was crafted by members of United Food and Commercial Workers (UFCW) Local 1546 who work at Horween Leather Co. in Chicago.

After UFCW members finish processing the leather, members of Workers United Local 1385 hand-make all NFL footballs, including the Super Bowl footballs used at the game, in Ada, Ohio. 
Food
UFCW members who work at E.&J. Gallo Winery in Modesto and Fresno, California, also were represented at the Super Bowl this year. These workers are represented by UFCW Local 8-Golden State and UFCW Local 186D. E.&J. Gallo Winery is the official wine sponsor of the NFL. E.&J. Gallo products—including the Barefoot brand—made by UFCW members, had an on-site presence at premiere events, and in broadcast, digital and social media content leading up to and during the Super Bowl. 

International Union, United Automobile, Aerospace and Agricultural Implement Workers of America (UAW) members produced soft drinks and beer.

Pouring Gatorade on the winning coach is one time-honored tradition made possible by the United Steelworkers (USW). The USW Local 1999-15 in Indianapolis produced the Gatorade used to shower the champions.
Journalists
Thousands of reporters and members of The NewsGuild-CWA (TNG-CWA) attended the Super Bowl this year and covered the event. There also were countless photographers, videographers and other other professionals who worked behind the scenes to provide news coverage.
Local Transportation
Transport Workers Union (TWU)

Amalgamated Transit Union (ATU)

International Federation of Professional and Technical Engineers (IFPTE)

International Association of Sheet Metal, Air, Rail and Transportation Workers (SMART)
Hotels
Travel
Association of Flight Attendants-CWA (AFA-CWA) members work at United Airlines (Kansas City Chiefs' official charter) and got attendees safely to game day.

Machinists (IAM) members work at American Airlines (Philadelphia Eagles' official airline) and helped fans and others get to and from the game on several carriers.

Air Line Pilots Association (ALPA) members were proud to safely fly the Chiefs and fans of both teams into Phoenix for the big game.

As soon as the Super Bowl city was announced, Professional Aviation Safety Specialists (PASS)-represented employees at the Federal Aviation Administration started working with the NFL on flight plans and restricted airspace around the stadium. Technicians were pulling extra shifts all week at the Phoenix Sky Harbor Airport and the air traffic control facility in Albuquerque. There were more aviation safety inspectors on hand in Phoenix, as well as at smaller airports, to ensure all private jets were legally registered.

Transportation security officers, who are members of AFGE, ensure the safety of America's flying public, including the increased traffic of folks who flew in for the Super Bowl.

Transport Workers Union (TWU) members helped maintain the planes that transported the Eagles. In addition, TWU has members who work at the Phoenix airport and represent aircraft mechanics, flight attendants, fleet service workers, flight technicians, customer service workers, air dispatchers and others at airlines that transported fans to the game.

Fans who flew in for the big game got there safely, thanks to aviation workers, who are members of the National Air Traffic Controllers Association (NATCA).
First Responders
Fire Fighters (IAFF) Local 493—the United Phoenix Firefighters—represents more than 2,700 fire and EMS professionals in the greater Phoenix and Glendale area.